2019-08-05 14:02
Long Liqi Chairman Xu Zhiwei and his delegation visited Sibu Group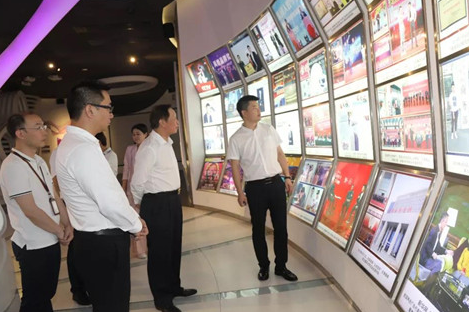 [Beijing Direct News Network, August 5] (Long Liqi)On August 1, Xu Dong, Director of Supply Chain System, Lu Zhao, Director of Planning and Propaganda, Gong Wei, Manager of Guangzhou Branch, Zhang Guo and his team visited Sibu Group and held strategic discussions with Chairman Wu Zhaoguo, President Wang Qi and CEO Xu Zhihua of Sibu Group. The two sides held strategic discussions on the entry of Longliqi Daily Chemical Products into future markets, cooperation with Sibu Group in OEM and ODM processing, which laid a good foundation for the forthcoming strategic cooperation between the two groups.
Founded in early 2014, Guangdong Sibu Group Co., Ltd. has created the first achievements in microcommerce in China. The future market is also a competitive platform.
As a leading research, development and marketing base of daily products and health care products in China, Longliqi has five factories and nine R&D institutions all over the world. Relying on the strong supply chain system and leading R&D level, Longliqi has attracted more than 100 brands of international daily chemical industry to cooperate in OEM processing. 。 At present, Longliqi trademark has been registered in 138 countries and regions all over the world. At the same time, the products are exported to more than 60 countries and regions in the world, and have established branches and agents in nearly 50 countries and regions overseas. Longliqi has become a well-known global brand in the daily chemical and health care industry.
Expected results were achieved at the fair. The two sides reached consensus on the entry of Longliqida Daily Chemical Products into the future market and the joint promotion of OEM and ODM processing with Sibu Group. The two sides hope to provide more excellent national cosmetics products for consumers through strong joint efforts to achieve win-win development.