2019-06-18 13:48
Boasting of Quantum Therapy for All Diseases in Chongqing Benyuan Yagu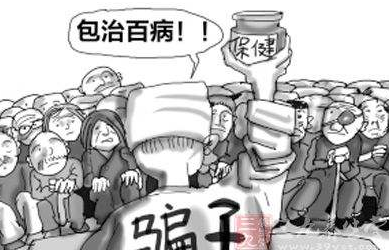 [Direct Report Network Beijing June 18rd] (China Consumer Daily)Chongqing Benyuan Yagu Electronic Commerce Co., Ltd. (hereinafter referred to as Benyuan Yagu Company) sells so-called "quantum medical products" under the guise of promoting "quantum technology", and sets up membership ranks to form an up-down relationship and engage in pyramid selling activities. Recently, the company was confiscated 36.79035 million yuan of illegal income by the market supervision and Administration Bureau of Dinjiang County, Chongqing, and fined 2 million yuan.
According to the survey, Benyuan Yagu Company was founded on August 9, 2016. Liu Moulong, its legal representative, declared on many occasions at the training conference that after using the company's "quantum medical products" through his quantum technology therapy, 95% of diseases such as diabetes, cancer and stomachache could be treated without injections or medications.
Zhang Zhen, a consumer in Chengdu, Sichuan, suffered from cerebral infarction and hemiplegia. "Quantum therapy is pure physical therapy, no medicine, no injection, no risk," the salesman of Benyuan Yagu introduced to her. Quantum therapy is through the vibration of quantum, removing toxins in blood vessels, and opening Ren Du's two channels. It can not only treat cancer, but also brain atrophy, not to mention cerebral infarction. Zhang Zhenhua purchased a "quantum cup" for 6000 yuan. The survey found that the actual price was less than 200 yuan.
"In addition to quantum cups, we also have quantum magic bottles, light moxibustion machines, kidney-tonifying belts, pillows, mattresses, water purifiers." Benyuan Yagu Company mainly sells to middle-aged and elderly people, packages ordinary commodities into "quantum medical products" and sells them to consumers at several or even tens of times the price. Reporters learned that some of Benyuan Yagu's "quantum medical products" are purchased from the market, and some are commissioned to process, eventually disguised as high-tech products to cure all diseases. A "quantum dishware" costs only 130 yuan, but the price is as high as 5000 yuan. The "quantum cell phone energy sticker" costs 40 yuan and 500 yuan.
On September 13, 2018, the market supervision bureau of Dingjiang County found that the electronic commerce service department of Benyuan Yagu in Dingjiang County developed its members in promoting "quantum medical products", and calculated and paid remuneration on the basis of the number of members and sales performance offline. Law enforcement officials suspected pyramid selling. Chongqing Municipal Market Supervision Bureau has ordered the market supervision bureaus of Dianjiang County and Changshou District to conduct joint investigations.
According to the survey, Benyuan Yagu Company declares that its "quantum medical products" are the application and promotion project of quantum medicine in its business activities. After consumers purchase products and become members of the company, they can participate in the promotion and sale of products, thus becoming promoters and even bosses, and ultimately achieve consumption and wealth. According to the company's propaganda, members are divided into four grades: copper card, silver card, gold card and drill card. Those who buy products up to 1000 yuan can become members of copper card, 6000 yuan can become members of silver card, 120,000 yuan can become members of gold card and 24,000 yuan can become members of drill card. The amount of products purchased by members can be accumulated on the amount of products purchased in the earlier period. When the corresponding amount of products purchased is reached, the member system will automatically upgrade it to the corresponding level of members.
In addition, Benyuan Yagu also implements the dual-track model of "large-sector market" and "small-sector market". Its bonus allocation system is linked with this model. It has several levels, such as layer-by-layer award, volume-by-layer award, point-of-view award, Leadership Award and shop return.
According to investigation, as of November 27, 2018, Benyuan Yagu Company has established agency stores in 21 provinces and cities, such as Chongqing, Sichuan, Yunnan, Guizhou and Hunan, with 13,558 members. The sales amount is 58.126 million yuan, and the profit is 36.790.35 million yuan.
According to the market supervision bureau of Dinjiang County, Benyuan Yagu Company sets up membership ranks in the name of selling products, forms the relationship between the upper and lower lines and the payment system, and constitutes pyramid selling behavior. In addition, the "quantum medical products" it sells are neither medicines, nor medical devices or health food, but ordinary daily necessities. They do not have the efficacy of disease treatment. They are misleading and deceiving consumers. Their actions seriously endanger social and public interests and disrupt the order of market economy.