2019-08-05 13:57
Investigation and Interview of Xinhua Leadership Group to Sansheng Company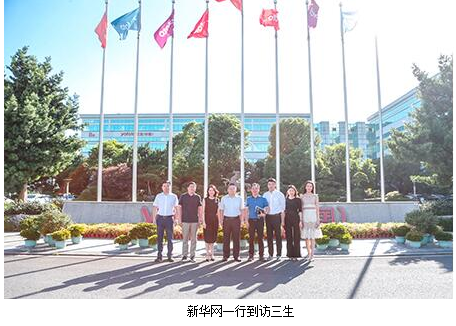 [Beijing Direct News Network, August 5] (Southern Network)On the afternoon of August 1, Xu Mingwei, assistant president of Xinhua, general manager of the Center for Industry and Economics, Wang Xinyang, director of science and technology, and Zhang Wenjing, deputy director of Quick Elimination, visited Sansheng Company for investigation. Accompanied by Sansheng (China) Chairman Jinbao and company executives, the two sides held detailed discussions and exchanges on the "Health China Action" officially issued by the State Council recently.
With the publication of the "Healthy China Action (2019-2030)" comprehensive health science guide, how can enterprises better promote national health and better safeguard consumers'rights and interests in health? At the symposium, guests closely linked to the health theme of the National People's Congress and Huang Dong conducted in-depth exchanges, and asked the existing problems in the current direct selling industry. The topic and future development are discussed in depth.After listening to Han Bo, Vice President of Sansheng (China), introducing Sansheng's corporate culture, development planning and industrial layout, Xu Mingwei, Assistant President of Xinhua Net and General Manager of the Center for Economics and Industry, responded positively to Sansheng's call for "Healthy China" and based on the big healthy industry, provided the whole life for the people. At the same time, Sansheng has been adhering to the practice of "self-discipline wins respect, standardization promotes harmony" for more than ten years since its establishment; and Sansheng has been based on excellent traditional Chinese medicine culture, integrated global resources, and innovatively developed characteristic nutritional and health products of traditional Chinese medicine. The road to the future is promising. It is hoped that Sansheng will continue to maintain the spirit of entrepreneurship and innovation, standardize its operation, take responsibility and contribute to a healthy China.
Huang Dong said that Sansheng has upgraded from a health product manufacturer to a health industry ecosystem chain of "measurement, adjustment, protection, treatment and maintenance" life cycle management, and has always maintained the industry's original intention, adhered to the spirit of ingenuity, and achieved the steady development of the enterprise. Sansheng is not only the provider of high-quality health products, but also the disseminator of national health knowledge. It is also the advocate of healthy lifestyle. It is the responsibility of every Sansheng to provide consumers with better products, more scientific knowledge and help consumers create a healthier and better life.
In the future, Sansheng (China) will continue to fulfill its social responsibility, adhere to culture-led enterprise development, product-based, service-oriented, improve management, standardize management, bring healthy and high-quality products and services to more families, and contribute to healthy China!