2019-07-04 16:49
College of Chemical Engineering, Nanjing Forestry University and Green Leaf Negotiate School-enterprise Cooperation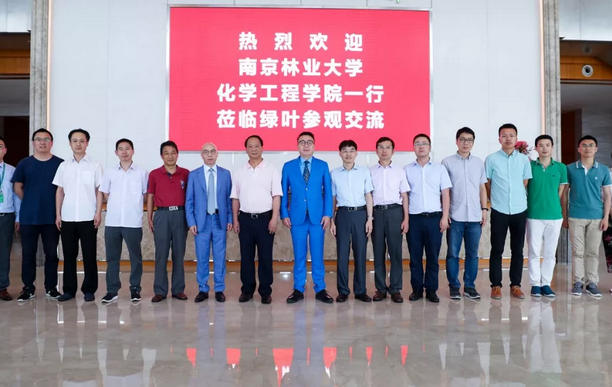 [Direct Report Network Beijing July 4] (Green leaf)On June 26, 2019, a delegation from the School of Chemical Engineering of Nanjing Forestry University visited Green Leaf and held a discussion with the senior managers of Green Leaf Science and Technology Group and the scientific researchers at its headquarters. The two sides had a heated exchange and Discussion on the respective situation of schools and enterprises, the direction and achievements of academic research in the industry.
The delegation of Nanjing Forestry University's College of Chemical Engineering is led by Wang Fei, Dean of Chemical Engineering College of Nanjing Forestry University, Cao Yunfeng, Secretary of the Party Committee, Xu Navy, Chairman of Refinement Department, Professor Zhu Xinbao, Zhu Kai, Zhang Gang, Han Jianlin, Zhang Xiaoxiang, Associate Professor Fu Bo and Mei Haibo.
At 3 p.m., the delegation arrived at the headquarters of Greenleaf Suzhou. Accompanied by Xu Jiancheng, chairman of Greenleaf Technology Group, Li Xianlin, director and president, Niu Minghui, director and vice president, and Liu Dong, director of R&D, the delegation visited the Greenleaf Intelligent Manufacturing Center, headquarters R&D Center and product exhibition hall. Place. During the visit, the delegation affirmed the efficient operation of the automatic production line of green leaves, the advanced production equipment imported from abroad and the twelve brand products with rich variety, and gave a high evaluation to the strategy of encouraging research and development of green leaves and building a scientific and technological enterprise.
Subsequently, the leaders of the delegation, together with the senior executives and scientific researchers of Green Leaf Technology Group, held a heated Symposium in the conference room and watched the Green Leaf Technology Group enterprise promotional film, which was chaired by Liu Dong, Director of Green Leaf Research and Development.
Xu Jiancheng, chairman of the board of directors, first made a welcoming speech and introduced in detail to the delegation the characteristic development of green leaves. As a traditional daily chemical enterprise, Green Leaf adopts the innovative business model of social e-commerce plus new direct sales, and always adheres to the development strategy of developing enterprises by science and technology. It invests 3% of its turnover in R&D every year, improves its scientific research strength from the perspectives of talents and equipment, and launches more than 3000 high-quality and low-cost green leaf independent R&D products, lipstick and teeth. One-day sales of paste, laundry detergent, sanitary napkins and other products constantly refresh industry data. Science and technology will never end. Professors of the Institute are the leaders in the field of chemical research. I urge professors to give more guidance and suggestions on green leaf products. Green leaf also expects to cooperate with Nanlin University as soon as possible to promote the scientific and technological level of green leaf products.
Wang Fei, Dean of Chemical Engineering College of Nanjing Forestry University, made a speech. The basic situation of the College was introduced in detail from the aspects of its history, disciplines and specialties, scientific research conditions, school running concept and orientation. The production and application of plant functional oligosaccharides, cultivation of plant proanthocyanidins resources and product creation were also cited. Scientific research achievements. President Wang said that the new green leaf model and good idea is a black horse for the Chinese national daily chemical enterprises. The college has strong scientific research strength. He hoped that the two sides would exchange and learn more, and integrate the latest technology into the green leaf products through School-enterprise cooperation. He also wished the green leaf to develop rapidly and to a higher level.
Li Xianlin, Director and President of Green Leaf Science and Technology Group, made a speech, expressing admiration for President Wang, professors and scholars'spirit of devoting themselves to academic research and training national outstanding scientific research talents. Green Leaf is a modern group enterprise which integrates scientific and technological research and development, intelligent manufacturing, self-brand promotion, Internet marketing, green leaf Hui-Buy APP platform and chain operation. It attaches great importance to the innovation of science and technology and mode. Green Leaf hopes to work with the professors of the College to strengthen cooperation and continue to build a Chinese daily chemical brand with national characteristics and world trends.
Professor Zhu Kai, School of Chemical Engineering, Nanjing Forestry University, introduced the basic situation of the Department of Fine Chemicals from three aspects: general situation of disciplines and specialties, scientific research and technical services, teaching and scientific research facilities, analyzed the main modes of cooperation between industry, University and research in China, and showed the participants the national key R&D plan and provincial key R&D plan. Scientific research projects and other achievements of production-university-research cooperation between colleges and departments.