2019-08-05 14:43
Interesting step: Walking can also make money. Whose money do you make?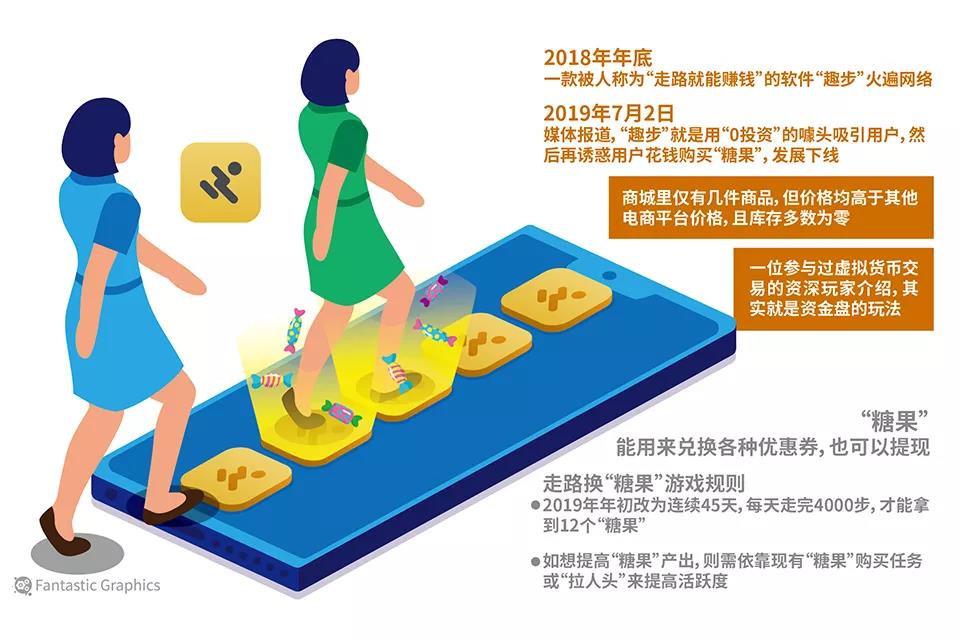 [Beijing Direct News Network, August 5] (South Weekend)"There must be an example of making money. You tell others how good this thing is, but how can you believe that you don't have any of it? First, you have to buy it yourself, so as to be persuasive." At a recent small internal sharing meeting, Chen Peng warned everyone.
What he calls "good stuff" is an App called "fun step". The slogan of the advertisement is "keep sweat from flowing in vain". It claims that walking can get "candy", which is equivalent to a virtual currency called GHT. The price of GHT is about 22 yuan, and it can be bought and sold like Bitcoin.
In fact, there are very few candies on foot. There are only two ways to get a lot of candies at a low price: investing and pulling people's heads.
Chen Peng is a veteran player of Yibu. He claims to have millions of candies and a team of more than 50,000 people. In his view, to be a "funny friend", the door of wealth freedom will open, investment, pulling people's heads to obtain candy can bring huge wealth. Speaking of excitement, he will fall into a good imagination - in the near future, he will live in the sea view villa for the rest of his life.
Industry and commerce data show that Hunan Interesting Step Network Co., Ltd. was founded in June 2018, when the currency circle entered the early bear market. In just one year, the App has attracted tens of millions of users.
Huawei's App Store has 13.35 million installations, and Apple's App Store has 24,000 ratings. It once topped the App Store's life list. At present, App Bao has taken fun step off the shelf and can not find relevant information.
At the same time, there are a lot of interesting promotional information on social platforms such as post bar, QQ group, micro-blog, jitter, fast-hand and so on.
For example, in the tremble, we can often see a group of people running with mobile phones shouting "fun steps, so that sweat does not flow in vain", and some people in supermarkets, squares, public security bureaus in front of the stalls to promote. In their opinion, the App not only makes them money, but also urges them to exercise.
On the other hand, interesting steps have been questioned, and the media have constantly questioned it as a Ponzi scheme, suspected of pyramid selling, illegal fund-raising, and rumors that the company wants to run away have been pouring out from time to time.
1. Integral or Digital Currency?
Walking can make money, which is the most attractive place for Qibu to attract Li Jianyong. However, for a long time, he did not understand how walking, which he was doing every day, was linked to making money.
Li Jianyong is a young man in a county town in Jilin Province. One day in May 2019, he saw people promoting interesting steps in the county square. Those wearing yellow work clothes with interesting steps sign shouted the most words: pay attention to this magical App quickly, and you can earn pocket money by walking.
On that day, Li Jianyong registered as a member and became an interesting novice. He can walk 4,000 steps a day to get 0.32 candies and 15 candies in 45 days.
According to the present price, the price of a candy is about 22 yuan, and that of 15 candies is about 330 yuan. He doesn't need to invest himself, just walk.
Interesting App has gone through two iterations and currently candy cannot be traded on App. The candy produced every day is put in a "wallet", which is like an electronic wallet of digital money, consisting of a long string of letters and numbers. If you want to cash in, you need to operate on a website with 91666. cloud.
This is a clever design. According to the User Agreement, candy is only the integral reward of the platform. It does not have circulation property, nor encrypts digital currency. This effectively avoids the attack of relevant departments on illegal fund-raising by using block chains and virtual currency since 2017.
Interesting step stipulates that a candy is equivalent to a digital currency called GHT, which can be traded and speculated.
It is noteworthy that GHT can only be traded on 91666. cloud, and this site can only trade GHT in one currency.
According to the website, GHT was launched by a club called Global Health Blockchain, which Malcom Jefferson founded in Silicon Valley in April 2017. The Jefferson is director of venture capital at an investment firm on Wall Street. However, Southern Weekend reporters did not search the club and its founders in English.