2019-08-05 14:20
Zhang Hong: Struggler of Healthy China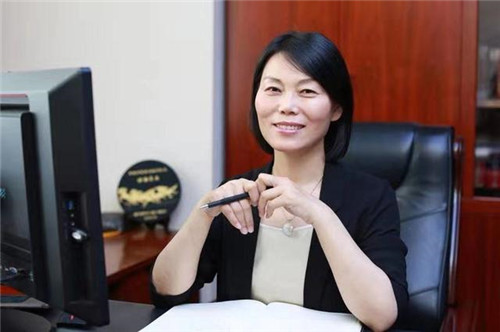 [Beijing Direct News Network, August 5] (Interface News)Recently, in the event of "Entering a New State-owned Enterprise, a Healthy New Era", co-sponsored by the Information Center of the State-owned Enterprises Commission and China Energy Conservation and Environmental Protection Group, we entered the Healthy Industry Group of the New Era for the first time.
Chen Shuguang, Deputy Secretary of CPC Committee of China Energy Conservation and Environmental Protection Group Co., Ltd., the parent company of New Age Health Industry Group, said that New Age Health Industry Group has actively responded to the call of "mass entrepreneurship and innovation" for many years, based on high-quality health products, to achieve successful entrepreneurship and business-keeping, and constantly innovate and construct. Green ecological industry chain promotes green development and circular development mode, and has achieved remarkable social and economic benefits.
Interface: Look at today, your company's name and location are very advanced, this story must be very long and interesting, right?
Zhang Hong: It's really interesting. The predecessor of New Age Health Industry Group is Yantai New Age Natural Nutrition Co., Ltd. You can't imagine that this is a company born in the wave of "military to civilian". From national defense industry to health industry, from protecting the country to protecting national health. "Developing national industries for the benefit of human health" has become the initial intention and mission of the new era Health Industry group.
Nobody expected that only 5 million yuan of state-invested enterprises would develop to today, only knowing that it would be right to choose to invest in health industry, because it is an industry related to the national economy and people's livelihood, but also a sunrise industry with huge potential.
The 1990s was the first period of rapid development of China's health industry. At this stage, due to the relatively low policy and technical barriers to health food, more than 3,000 health food production enterprises emerged, with 28,000 kinds of products. Many enterprises which are well known by people have risen rapidly and collapsed. At that time, China's health industry was mixed, consumers preferred foreign health products more, foreign-funded enterprises entered strongly, and national enterprises were relatively weak and lacked long-term planning.
Interface: So, what's your starting point?
Zhang Hong: Share with you a business chronology:
In 1995, in the "military to civilian" era of torrents, into the health industry;
In 1998, the transformation strategy of "three-dimensional development, all-round operation" was put forward to build "national treasure monopoly mode".
In 2003, we implemented the "going out" strategy and actively expanded overseas markets.
In 2005, we formulated the three-step strategy of "going in, staying stable and going up fast", and put forward the management idea of "going with the tide and doing with the tide and going up with the tide".
The first Corporate Social Responsibility Report was released in 2010.
In 2012, we proposed to build a large health industry pattern of "more health products, broader health business areas, better health services and higher level of health management".
In 2014, as a complete circular economy case, the "green eco-industrial chain" was selected into the MBA case bank of the Chinese Academy of Social Sciences and compiled into the series of business management innovation cases in China.
At the end of 2015, we will upgrade the business model, set up Guozhen e-commerce business department, and promote the implementation of e-commerce.
In 2016, we will build three platforms: Guozhen Online Mobile, PC and Wechat.
In 2017, a grand blueprint for the construction of the "Great Healthy Ecosphere" was put forward.
In 2018, we will take part in the "Double Hundred Action" to promote institutional and institutional reform and build a "Double Creation" platform...
In short, through exploration and research, the company has found pine pollen with both good health value and distinct Chinese characteristics. By using advanced military technology, the company has solved the two historical problems of wall breaking and fresh-keeping, and realized the industrialization and commercialization of pine pollen.
Specifically, it is to use military standards and requirements to make products. Enterprises have established a strict food safety assurance system and quality management system. Food safety control begins with product development, then goes to the cultivation and harvesting of raw materials, the production, quality inspection, storage, transportation, sales and services of products, each step is protected layer by layer, strictly controlled, and ensure that each batch of products are traceable.