2019-09-20 13:42
Perfect Participation in the Development of National Standards to Fill in the Domestic Cosmetic Testing Method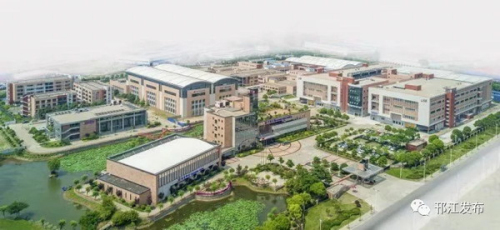 [Beijing Direct News Network September 20th] (Hanjiang issue)The reporter recently learned from the General Administration of Market Supervision of Haojiang District that the State Administration of Market Supervision and Administration and the National Standardization Management Committee recently jointly issued the National Standards of the People's Republic of China (No. 7 of 2019), approved and issued the High Performance Liquid Chromatography for the Determination of 8-hydroxyquinoline and nitrohydroxyquinoline in Cosmetics, which is perfect in Yangzhou. As the main formulator of the national standard, the company spent two years to carry out verification and sample determination with this standard. This national standard will be implemented in January 2020. It is reported that it is the first time that cosmetics enterprises in Yangzhou have participated in the formulation of national standards.
Zhang Fang, manager of testing center of Yangzhou Perfect Company, introduced to reporters that 8-hydroxyquinoline and nitrohydroxyquinoline are prohibited substances in cosmetics, which have certain toxicity and irritating effects on eyes, respiratory tract and skin. At present, the main methods for the determination of 8-hydroxyquinoline at home and abroad are HPLC, TLC, spectrophotometry and voltammetry. However, due to the related technical reasons, the results of these methods are not accurate. "There is no national standard for the determination of 8-hydroxyquinoline and nitrohydroxyquinoline in cosmetics." Zhang Fang said that the formulation of the national standard filled the gap in the detection methods of 8-hydroxyquinoline and nitrohydroxyquinoline in domestic cosmetics, and improved the detection standard system of prohibited and restricted raw materials in cosmetics.
Reporters learned that China's "Cosmetic Safety Technical Specification" clearly pointed out that nitroquinoline is a prohibited substance, nitroquinoline can not be added to cosmetics as raw materials. Since the source has not been added, is there any need for testing? Zhang Fang introduced that although cosmetics enterprises did not add these prohibited substances in the production and processing process, it is possible that impurities or by-products produced in the production process of cosmetics raw materials contain such substances. "Perfect company not only implements the relevant national standards, but also formulates more stringent internal control standards." Reporters learned that for quality control, perfect excellence. For example, "Technical Specification for Cosmetics Safety" (2015 edition) stipulates that dioxane is less than 30 mg/kg, while perfect shampoo, shower lotion and other cosmetics strictly control dioxane is less than 2.5 mg/kg, which is far below the national standard.
As a manufacturer, it is better to perfect the testing process. Entering the testing laboratory of Perfect Company, there are hundreds of precision instruments, including fluorescent quantitative PCR, Fourier transform infrared spectroscopy, atomic absorption spectrometry, gas chromatography, gas chromatography-mass spectrometry, high performance liquid chromatography, etc. "The Laboratory of Yangzhou Perfect Testing Center invested more than 10 million yuan in total. In 2010, the laboratory passed the approval of China Conformity Assessment and Accreditation Committee (CNAS), and now has 39 professional and technical personnel." It is precisely because the hardware equipment and personnel are too hard, perfect will become the main formulator of national standards. Up to now, 497 projects have been approved by CNAS in the laboratory of Perfect Testing Center. Independent, reliable and authoritative testing results provide a solid technical support for the safety and quality of perfect products.
Zhu Yahong, Head of Standards and Metrology Section of Hanjiang Market Supervision Bureau, said that Hanjiang actively helped the advantageous enterprises to declare standardization organizations and adopt advanced foreign standards and international standards. In recent years, in the construction of standardization professional and technical institutions, a specialized technical committee of the International Organization for Standardization and an international organization for standardization have been formed. A cluster of international and domestic multi-level standardization professional and technical institutions is composed of a working group of the Industrial Technical Committee, a National Standardization Professional and Technical Committee, a sub-technical committee of the National Standardization Professional and Technical Committee and 11 working groups. In the past three years, Hangjiang District has led the formulation of 6 national standards, 18 industrial standards, 14 national standards and 22 industrial standards, and has been approved to establish 3 pilot projects of national standardization. In recent years, enterprises in Hanjiang District have also participated in (mainly) the formulation of three international standards, and two other international standards proposals have been formally launched.