2019-08-05 15:08
Zhao Yang: The biggest circle of friends in the world is the circle of friends in Chinese education.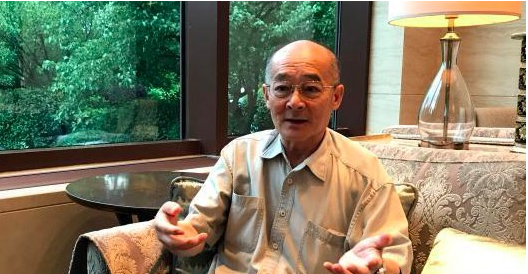 [Beijing Direct News Network, August 5] (China-Singapore Network)On August 2, Zhao Yang, former deputy director of the Overseas Chinese Office of the State Council and chairman of the Chinese Education Foundation of China, gave an interview with Sino-Singapore. When talking about "Chinese education", he said that the world's largest circle of friends is the circle of Chinese education friends.
On the same day, Zhao Yang was invited to attend the launch meeting of 2008 Social Responsibility Report and Food Safety Education Base held by Perfect Company in Yangzhou. Zhao Yang told reporters that Gurunjin is a Malaysian Chinese. In 1994, Gurunjin returned to his hometown Zhongshan to establish Perfect (China) Co., Ltd. Over the past 25 years, Gu Runjin has led the Perfect Company to contribute to various social public welfare undertakings, and gradually formed a charitable public welfare system with the main body of donating hope projects, promoting mothers'cellars, advocating free blood donation, participating in charitable activities, supporting Chinese education and promoting drug control. The total amount of donation is nearly 800 million yuan.
Among many charitable projects, Gu Runjin pays more attention to the inheritance and dissemination of Chinese culture. Up to now, Perfect Company has donated 105 million yuan to China Chinese Education Foundation for the construction of Chinese education base, the development of perfect distance training for Chinese education, the education of Chinese teachers'academic qualifications and the inheritance of Chinese culture among Chinese-American teenagers.
Gurunjin's Perfect Company has taken root in China. For 25 years, it has grown from small to large, from weak to strong, and at the same time, it has not forgotten to give back to its ancestral country, society and people, which is full of positive energy. Zhao Yang, who witnessed Gu Runjin's development all the way, said, "Gu Runjin is a responsible overseas Chinese entrepreneur and an enthusiastic person who develops Chinese education. He does not forget his roots, his roots and his hometown, which is very admirable."
Chinese education is an important carrier to help overseas Chinese adolescents to inherit Chinese culture, and a bridge for the excellent spiritual genes of the Chinese nation to be passed on from generation to generation overseas. This work has been praised as the "Root Retaining Project" and "Hope Project" of the Chinese nation abroad by the vast majority of overseas Chinese.
Zhao Yang said that the Chinese Language Education Foundation of China was established in 2004 and has gone through 15 years of development by this year. Its original intention is to support overseas Chinese education. Mainly used for overseas Chinese youth summer (winter) camp, overseas Chinese teacher training, distance education, overseas Chinese teacher red candle line. Perfect (China) Co., Ltd. fully funded the project of China Chinese Education Foundation.
Zhao Yang also introduced in particular the real-life classroom projects funded by Perfect Company. Real-life classroom is very popular with overseas Chinese teenagers. It is different from traditional oral, picture and video teaching methods. Real-life classroom teachers are in real-life environment, relying on real-life presentation of teaching content, inspiring students to explore the world through on-site observation, so that the learning of Chinese culture no longer stays in textbooks and words.
Instead, it spans time and space and vividly presents itself to students, thus enabling Chinese adolescents all over the world to learn rich and colorful knowledge of Chinese culture in real-time and long-distance without restrictions of time and space. There are more than 100,000 students in each class in the real classroom, and millions of students in some classes. The number of students in real classroom is rare in the world.
"Millions of overseas Chinese students are studying in live classes at the same time. Is our circle of Chinese educational friends the largest circle in the world?" Zhao Yang said.