2018-11-30 15:30
Cheng Tao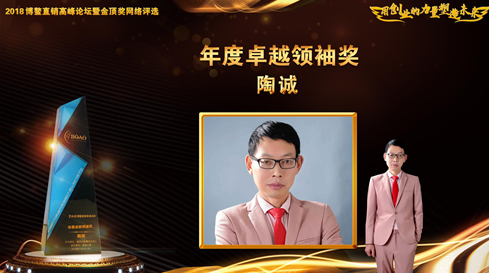 [Direct Report Network Beijing November 30th] (Direct seller)From November 1 to 3, 2018, the Fifth Boao Direct Sales Summit Forum was solemnly held in Sanya, Hainan, with the theme of "Restructuring the Man, Goods, Field" and Enabling "New Zhi Xiao". This forum is sponsored by the Center for Direct Marketing Data Research, hosted by Huizhong Direct Seller Network and supported by Huizhong Tourism. The conference invites senior executives, industry experts, top suppliers and media from all over the country to gather in Haitangwan Bay, Sanya, to conduct in-depth research and Discussion on the market concept innovation and enterprise development trend of the future direct selling industry under the new consumption scenario of diversification and explosive growth.
Mr. Tao Cheng was awarded the "Excellent Leader Award" of the 2008 Boao Direct Sales Summit Forum. He is the most valuable coach on the Internet, helping more people achieve their dreams. He is Tao Cheng, the coach of Sansheng Dedao International Yunchuang System.
Adhering to the core values of self-respect, he will lead his companions all the way to a higher goal. He is our model, a model of success. With the continuous development and change of information technology and Internet technology, the Internet has penetrated into people's daily life and all walks of life. Individualization, intelligence, cloud computing, Internet of Things, social media and other elements are deeply integrated, which leads to the emergence of new business models and concepts. Faced with the tremendous changes in the market environment, we have been constantly exploring new ideas and building new models of direct marketing enterprises'successful experience, which is a valuable reference for all future entrepreneurs.
Adhering to the original intention of "benchmarking entrepreneurship and setting up an industry model", on the eve of the 2008 Boao Direct Selling Summit Forum, the "Golden Peak Award" network selection, sponsored by Huizhong Industry's Direct Selling Big Data Research Center and hosted by Huizhong Direct Seller Network, was reopened. This year's Golden Top Award includes four categories of awards: enterprise, e-commerce, system and personage. With the most professional platform and the most impartial way of selection, it will select the elite enterprises, excellent teams and outstanding individuals in this year's direct selling industry, and provide a reference vane for the vast number of direct selling practitioners.