2020-02-06 15:26
Help Yandi biology against "epidemic" donate 1 million yuan to help Wuhan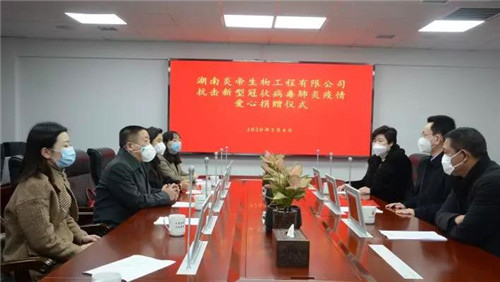 [Beijing Direct News Network February 6th](Yan Di)Drinking the water of Changjiang River, Xiange family. On February 4, 2020, the charity donation ceremony of Hunan Yandi Bioengineering Co., Ltd. "fighting against the new coronavirus pneumonia epidemic" was held in Zhuzhou Civil Affairs Bureau. The donation ceremony was attended by Yi Xiangdong, director of Zhuzhou Civil Affairs Bureau, Tang Aijun, deputy director of Zhuzhou Civil Affairs Bureau, Xie Zhaojun, Deputy Secretary General of Zhuzhou Charity Federation, Huang Jialin, chairman of Yandi biology, Zhou Ling, vice president and operation of Yandi, general manager of public administration center, Ziying, deputy director of president office, Huang Shuangfeng, administrative manager, etc.
At the donation ceremony, director Yi Xiangdong highly praised Yan Di's positive support to Wuhan in the crisis, and affirmed Yan Di's exemplary role in fulfilling social responsibility. Zhuzhou Civil Affairs Bureau, together with Zhuzhou Charity Federation, will deliver Yan Di's love to Wuhan as soon as possible to help them.
Huang Jialin, chairman of Yandi biology, pointed out in his speech: "there is no love for the disaster. When Wuhan, Hubei Province is in a difficult situation, Yandi biology mobilized all the people during the Spring Festival holiday. The vast number of Yandi people donated generously and enthusiastically, with strong repercussions. They raised a total of 1 million yuan to do their best. At the same time, he also hoped that the compatriots in the disaster area could overcome the epidemic situation as soon as possible and return to normal Life and production. "
After the donation ceremony, Huang Dong was interviewed by Zhuzhou TV station, radio station and other media. He said frankly: "health is priceless. We guard the home of a better life with our responsibility and confidence. We firmly believe that there are no mountains that can't be turned over, and there are obstacles that can't be crossed. Let's go to Wuhan, and let's go to China!" at the first time, local media praised the love and kindness of Yan Di's family on its official platform.
It is reported that Hunan Yandi Bioengineering Co., Ltd. and Hunan Yandi biological centenary public welfare foundation, through Zhuzhou Civil Affairs Bureau and Zhuzhou Charity Federation, allocated the donation to Wuhan Charity Federation.