2021-11-24 14:41
AI Duomei drink is suspected to cause poisoning to 4 people, and questions about frequent MLM involvement in China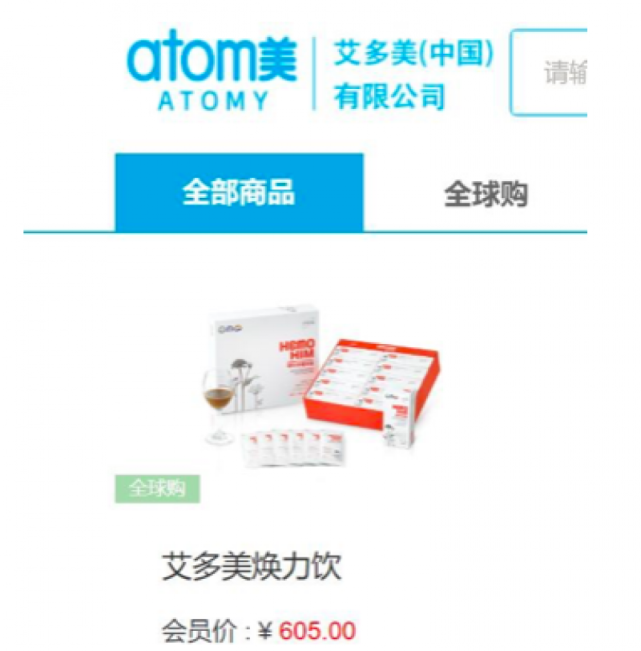 [Beijing Direct News Network November 24th] (China Times)HemoHIM, a health drink produced by a well-known Korean direct selling enterprise, is suspected to have poisoned four people in Hong Kong. The relevant departments in Hong Kong have recently stepped into an urgent investigation and appealed to the public not to buy or take the drink.
The reporter of Huaxia Times noted that after the poisoning incident, idomei's official websites in Hong Kong and Singapore have urgently removed relevant products from the shelves. However, as of November 11, adomei China's official website was still selling the product to the mainland.
Adomei China did not respond to requests for comment. On November 11, the staff of the Hong Kong Department of health confirmed to reporters that they were still investigating the poisoning of adomei Huanli drink.
Four people suspected of poisoning were investigated
On November 1 and 2, the government of the Hong Kong Special Administrative Region issued a series of press releases calling on the public not to buy or take an oral product called adomei Huanli drink, because the product was found to contain unmarked toxic ingredients, which may cause liver damage.
According to the notification, the Hong Kong Department of Health received a notification from the hospital authority on October 29 of four suspected poisoning cases of acute liver injury, involving four female patients aged 42 to 72. They developed symptoms such as tawny urine, jaundice and vomiting between April and September this year. They all had to be hospitalized and have now been discharged. All patients reported that they had taken the above products to improve their health status for two weeks to six months.
The Hong Kong Department of health obtained two samples of etomethacin from patients. The government laboratory confirmed that the samples contained "methoxalin". Subsequently, the Hong Kong Department of health obtained samples of Hong Kong products from adomei's address in Cheung Sha Wan, Hong Kong. The test still showed that the samples contained "methoxalin". According to the information provided by adomei, the above products are manufactured in Korea and distributed through its website.
According to the press briefing of the Hong Kong government on November 2, "methoxaline" is the first poison and prescription drug under the pharmacy and Poisons Ordinance (Chapter 138) in Hong Kong. It can only be sold in pharmacies under the supervision of registered pharmacists with doctors' prescriptions. "Methoxaline" can be used to treat psoriasis, white erosion and other diseases. Common side effects include nausea, headache, dizziness, fatigue, depression, and skin response to sunlight.
The circular also said that the illegal sale or possession of Part 1 poison is a criminal offence. The maximum penalty for each offence is a fine of HK $100000 and imprisonment for two years. The investigation of the Hong Kong Department of health is still ongoing and enforcement action will be taken if necessary.
On November 11, the reporter of Huaxia times called the Hong Kong Department of health on the Huanli drink poisoning incident. The staff revealed that the investigation of the incident is still ongoing. She also reminded that if family members buy adomei Huanli drink, they should stop taking it immediately.
Hong Kong is still on sale in the mainland
Public information shows that adomei is a well-known direct selling enterprise group in South Korea, and its products mainly cover daily necessities, health products, cosmetics, etc.
In 2017, adomei established a wholly-owned subsidiary adomei (China) Co., Ltd. in Yantai, Shandong Province, with a registered capital of RMB 100 million, and then sold its products to mainland China through adomei China's official website.
According to the information on adomei China's official website, the goods purchased through adomei China's official website are cross-border e-commerce retail imported goods, which is equivalent to overseas purchases. This means that its source may be South Korea, which is consistent with the products sold in Hong Kong.
After the above poisoning incident, adomei Hong Kong's official website immediately complied with the requirements of the Hong Kong Department of health and urgently removed Huanli drink products from the shelves until the case was investigated. Adomei Hong Kong company also said that it attaches great importance to the doubts caused by Hong Kong Huanli drink products, has begun a thorough scientific inspection procedure, and will actively cooperate with relevant institutions in the investigation.