2019-09-20 14:14
The bonus system of Toronto Hall's products is suspected of pyramid selling.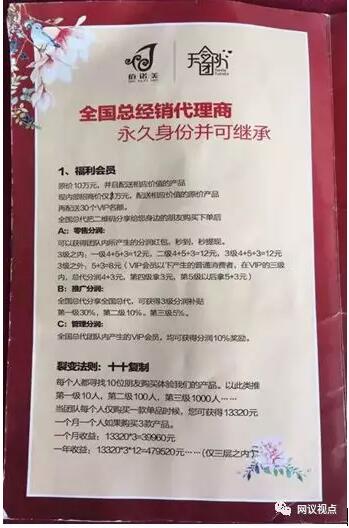 Relevant Bonus System Publicity Page 1
Publicity Page 2 on Relevant Bonus System
Publicity Page 3 on Relevant Bonus System
[Beijing Direct News Network September 20th] (Public Opinion Observation Network)Nowadays, almost everyone in the circle of Twitter friends has micro-businesses in sales and development agents. They insist on daily delivery, order and revenue, telling you that you earn thousands of yuan a day and can earn more than 100,000 yuan a month if you do a good job, and this multi-level distribution agent model has been called off. In 2016, the former State Administration of Industry and Commerce issued the Notice on Further Investigation and Treatment of Network Pyramid Marketing, which includes" Activities such as micro-merchants, multi-level distribution and mutual assistance. However, there are still enterprises to take risks against the wind, such as Guangzhou Bainomei Biotechnology Co., Ltd. (hereinafter referred to as: Bainomei).
According to Bainomei's official website, Bainomei Company is a new retail e-commerce platform providing many well-known brands, including Beijing Tongrentang, in the fields of traditional Chinese medicine, health care, cosmetology and skin care, moxibustion and physiotherapy. Adhering to the concept of "knowing what belongs to, coming for love", the company is committed to creating the most traditional cultural characteristics, and will build a comprehensive large health industry network mall with strategic cooperation in many fields, such as remote diagnosis and treatment, online first aid, famous medical channels, immediate distribution nearby, and so on.
However, the multi-level distribution method used by the enterprise to sell Tongrentang's products has been questioned by consumers. Below is the bonus system promoted by Bainomei.com.
I. Members and Platinum VIP Members
1. Ordinary members only need 58 yuan to generate their own independent two-dimensional codes. They own online stores and get products worth 128 yuan to 288 yuan. Successful sharing of friends'purchases can get three-level red envelope seconds to the account.
Four yuan for the first level, four yuan for the second level and four yuan for the third level.
For example: you can share 10 people at the first level and get 40 yuan red envelope. Each of these 10 people shares 10 people a product. The second level is 100 people. You can win 400 yuan, the second level is 100 people, each person shares 10 people, and the third level is 1000 people. You can win 4000 yuan!
2. Platinum VIP Members
The original price is 10,000 yuan, and the promotion period is only 1,000 yuan to become a platinum VIP member, giving the same value of the original price products!
Platinum VIP members share the success of each purchase of a 58 yuan product, that is 4 + 5 = 9 yuan red envelope seconds to the account;
Platinum VIP members recommend a Platinum VIP member, three-level average seconds to 100 yuan!
II. National Diamond Generation
Price: 100,000, promotion period only 30,000. (Lifelong one-time investment)
1. The company gives the original price of 30,000 yuan products [Unified Distribution]
2. By sharing two-dimensional codes, for every 58 products purchased in a rush, 4+5+3=12 yuan of second to red envelope can be obtained in the third level, and 8 yuan of red envelope second to red envelope for every 58 yuan outside the third level.
3. The General Generation recommends the General Generation, which can receive 30%, 10% and 5% of the promotion price respectively in the third level, i.e. 3000, 1000 and 500 yuan in the third level.
Such as:
A Tui B is the national diamond generation, A wins 3000 yuan
B recommends C as B wins 3000 yuan and A 1000 yuan.
C recommended D, C awarded 3000, B awarded 1000, A awarded 500 yuan.
4. All platinum VIP members in the general promotion team, regardless of the level, are 100 rebates to the account.
Platinum VIP below produces ordinary consumers, in the VIP level three, the total generation takes 4 + 3 = 7 yuan, the fourth level takes 3 yuan, the fifth level includes the fifth level after each generation of 58 yuan also needs 8 yuan.