2021-07-07 11:38
Jiangyujuan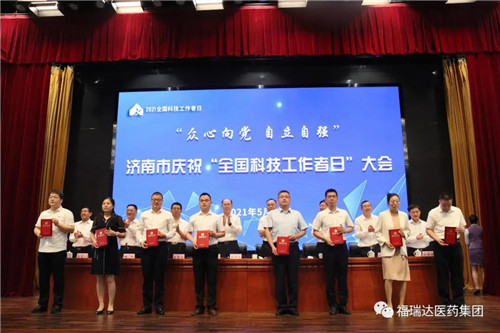 [Beijing Direct News NetworkJuly 7th] (Freda)On May 30, the Jinan city celebrates the national science and technology workers day conference in Jinan. Wang Jingwen, the Standing Committee of Jinan Municipal Committee of the CPC, attended the symposium, and announced the decision on selecting trees for excellent scientific and technological workers and young innovation pioneers in Jinan in 2021. Mingren Fulida jiangyujuan won the title of "Jinan excellent scientific and technological worker" in 2021 and won the prize as a representative.
The selection of excellent scientific and technological workers in Jinan aims to establish a typical and advanced recognition, further promote the "respect for knowledge and talents" fashion in the whole society, encourage the majority of scientific and technological workers to actively participate in innovation driven development, and contribute to building "four centers" and building a modern international metropolis of "great strength, beauty and prosperity". The honor is recognized by jiangyujuan and minren furida technology center in the field of scientific and technological innovation. In recent years, minren Fulida has been focusing on the development opportunities of "transition year", focusing on major scientific research projects and key technical problems, focusing on the transformation and upgrading of traditional pharmaceutical industry, especially its commitment to the standardization and intelligent construction of modern Chinese medicine whole chain, Use scientific and technological innovation to help the transformation of new and old kinetic energy.
In the future, minren Forida will continue to grasp the great opportunities of scientific and technological innovation, give full play to the exemplary role of excellent talents, and add assistance to accelerate the construction of "five Jinan" and the construction of a new era of modern and powerful province, and meet the party building of the Communist Party of China for 100 weeks with practical actions and excellent achievements.