2019-09-20 14:32
Sansheng Golden Treasure: Only those who share the same ideas can go far.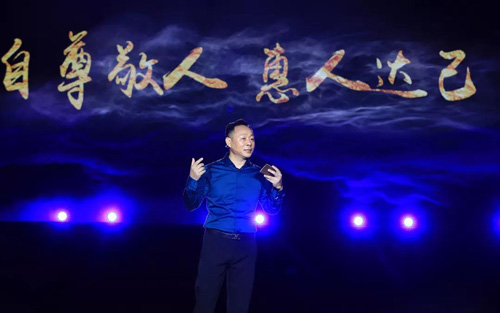 [Beijing Direct News Network September 20th] (Sansheng)Last week, the most talked-about event was that on Teachers'Day, September 10, Alibaba founder Ma Yun officially stepped down as chairman of the board of directors of the Group at the 20th Anniversary Meeting of Ali. On the same day, Alibaba also issued the "New Six-Vein Sword", announcing a comprehensive upgrade of mission, vision and values.
All major decisions
It's all about values.
Ma Yun said, "All the major decisions in Ali's history have nothing to do with money, but with values. Perhaps the world rarely finds such a company and spends so much time discussing values.
This sentence has shocked me a lot. As we all know, Ali is a company with strong values: consistently paying attention to and meeting customer needs, respecting entrepreneurship and innovation, stressing customer first, teamwork, embracing change, integrity, passion and dedication.
Ma Yun is right. Ali is a company that always "competes" with values. It seldom finds a company like Ali that lets values precipitate tremendous influence in successive changes. For Ali, values are not only rules and constraints, but also beliefs, the basis of survival and the strength of unity.
Sense of worth
Is the best traction to reach consensus
Look back at Sansheng.
I have always believed that values determine the future direction of an enterprise. It can not be solved by people or systems alone. Only by the perfect combination of systems, people and culture can enterprises develop healthily and sustainably.
Therefore, since its inception, Sansheng has established the mission of "providing high-quality healthy life products and services, creating the best health career platform, helping people to achieve healthy, happy and successful harmonious life" and the core values of "self-respect".
During the 15-year development process, our corporate culture has been constantly improving and enriching. Until last August, Sansheng's cultural system was upgraded. The core values of enterprises have also been upgraded from "self-respect" to "self-respect, benefit others and reach oneself", and finally established Sansheng's code of conduct.
The birth of the newly upgraded Sansheng cultural system took nearly a year. At the beginning of 2018, Sansheng began to promote the "Excellent Performance Management System". All managers and business backbone above the middle level of Sansheng began to self-evaluate each business management module, and established 10 tasks to promote Sansheng's excellent performance, one of which is "enterprise culture optimization, implementation and landing evaluation". The company organized a survey of employees of different ages, positions, levels and ages, and received nearly 1000 feedback. The core value of "self-respect, benefit others and reach oneself" finally confirmed also points out "how to act, and the clear direction and result of such action" for all three generations.
Because of belief, so see - values is a driving force, a group of people with similar ideas go forward, will certainly go further. Let's work together to safeguard the values that have been established since the beginning of our business, so that the mission and initiative of our team can be continued in our future business.