2020-08-18 16:14
Xu Wei, President of Melaleuca China: growing together with Chinese consumers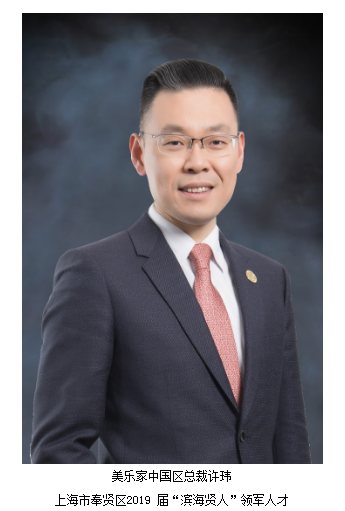 [Beijing Direct News Network August 18th] (Melaleuca)In Fengxian, the southern suburb of Shanghai, dongfangmeigu, as the highland of Shanghai and even the whole country's large health and beauty industry, has stunned the world stage again and again. Today, the brand valuation of dongfangmeigu has exceeded 10.842 billion yuan, and more and more world-class well-known enterprises are attracted by it. As an important member of dongfangmeigu, Melaleuca, a multinational enterprise, has been ranked among the top three "Fortune 100 enterprises" in Fengxian District for five consecutive years. In recent years, relying on its excellent brand strength, Dongfang Meigu's brand influence and Fengxian's Pro business environment, Melaleuca has grown rapidly at an amazing speed and firmly rooted in the Chinese market.
Help ordinary families improve their quality of life
Melaleuca started its business in Idaho in 1985, and gradually developed into a multinational enterprise with annual turnover of more than 2 billion US dollars and business in 19 countries and regions around the world. It has large-scale online shopping websites in China, the United States, Canada and other countries, and has many factories producing personal consumer goods around the world. Today, Melaleuca has become a company providing products and services to millions of families around the world.
In the answers delivered by enterprises in Fengxian District, there is an impressive set of data: "in the 11 years since its establishment, Melaleuca (China) has increased its tax payment by 1875 times." The rapid growth of Melaleuca in China is closely related to high-quality products, all-round customer service, multi-channel operation mode and long-term performance of corporate social responsibility, which is a process from quantitative change to qualitative change.
Melaleuca entered the Chinese market in 2003, specializing in the sale of household cleaning, body care, cosmetics, skin care and nutritional food. Since its entry into China for 17 years, it has 28 health living centers, 2 call centers and 4 distribution centers in mainland China, and has two production bases in Fengxian District, Shanghai and Nantong, Jiangsu. China has become the most important international market of Melaleuca.
This achievement also benefits from Melaleuca's corporate culture. As early as the beginning of its establishment, the founder of Melaleuca, Mr. Vanders, set the corporate mission of "helping people to achieve their goals and create a better future together". He was committed to helping ordinary families improve their quality of life and help ordinary people achieve success. Up to now, it is still the goal that drives Melaleuca to keep forging ahead. It is precisely this corporate culture that has created the talent strategy of Melaleuca (China), thus developing a stable and practical staff team, which has supported the rapid and steady development of the company in recent years.
"Power source" of sustainable development
Unlike most enterprises, Melaleuca will establish trust with customers through the direct purchase system (CDM) and directly purchase, manufacture and deliver products to consumers instead of traditional channels such as manufacturers, advertisers or distributors. This means that Melaleuca does not distribute the profits of its products to the middlemen in the market, but returns a part of the profits to consumers.
Melaleuca's business model innovation is more than that. On the day of its establishment, Melaleuca will integrate environmental protection into the core concept of the enterprise: in the product design and development stage, through the concentrated formula, reduce the packaging volume and weight, reduce the energy consumption in transportation and reduce the carbon emission; use more natural raw materials to produce environmentally beneficial products; reduce the waste of resources and subsequent environmental pollution caused by excessive packaging through packaging reduction.
Nature gives us a lot of ways to solve problems. When developing products, Melaleuca tries its best to solve problems with what nature can provide. This is our product philosophy. In March 2020, ecosense Melaleuca's new clean world laundry care nine times efficiency series was launched on the market. With its excellent performance in concentration, efficiency, energy saving and environmental protection, it was awarded the title of "recommended product by Shanghai Daily Chemical Industry Association".
In addition, Melaleuca always adheres to the product concept of "excellent quality and reasonable price", and has invested a lot of manpower and capital in product innovation to meet the diversified, personalized and growing consumer demand of consumers. In addition, we continue to explore the product development and upgrading iteration, so as to keep the product constantly new, and strive to better meet the various needs of Chinese consumers for product types, so as to increase the stickiness of consumers.