2020-11-12 15:38
Wang Yong: speeding up the improvement of market supervision system adapting to the new development pattern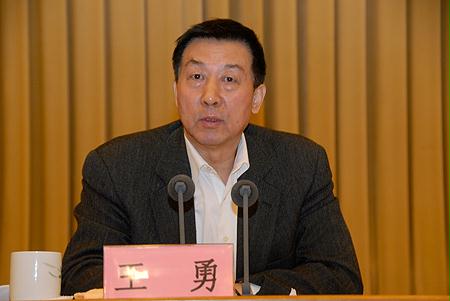 [Beijing Direct News Network November 12th] (Xinhuanet)Xinhua news agency, Fuzhou, November 10 State Councilor Wang Yong, in his recent research on market regulation and intellectual property work in Fujian, stressed the need to thoroughly implement the spirit of the party's important speech of the fifth Plenary Session of the 19th CPC Central Committee and general secretary Xi Jinping, to implement the decision making arrangements of the Party Central Committee and the state Council, to deepen reform and innovation in the field of market supervision, to enhance the comprehensive supervision ability and market service efficiency, and to create a better business environment and consumption environment. The construction of a new development pattern with domestic big cycle as the main body and domestic and international dual cycle promoting each other provides strong support.
From September 9 to 10, Wang Yong went into the administrative service hall, grassroots Market Supervision Institute, quality inspection agency and patent examination cooperation center in Fuzhou and Ningde to understand the service market subjects and the situation of benefiting enterprises and the people. He went to the agricultural market and food enterprises to inspect the food safety supervision and epidemic prevention and control work, and came to Ningde times and other enterprises to investigate the quality brand management and intellectual property innovation and creation 。 He pointed out that market supervision departments at all levels should accurately grasp the new deployment and new requirements put forward by the Fifth Plenary Session of the 19th CPC Central Committee, bear in mind the mission and responsibilities, further coordinate the epidemic prevention and control and strengthen market supervision, actively serve various market entities, and play a greater role in forming a strong domestic market and promoting high-quality development.
Wang Yong stressed that it is necessary to continue to optimize the process of enterprise registration and licensing review, enhance the degree of market access facilitation, accelerate the formation of an efficient, standardized and fair competition domestic unified market, and fully stimulate the vitality of various market entities. We will carry out quality improvement actions, innovate quality technology public services, promote the convergence of domestic and foreign trade quality standards, certification and accreditation, and help enterprises improve supply quality. We will vigorously strengthen the creation and protection of intellectual property rights, improve the use efficiency of patents and trademarks, and help enterprises to innovate and develop. We should strengthen the construction of grassroots supervision and law enforcement team, strengthen the protection of consumers' rights and interests, and actively promote consumption. We will strictly implement the "four strictest" requirements, comprehensively strengthen the quality and safety supervision of food and drug, special equipment and industrial products, and constantly enhance the people's sense of gain, happiness and security.