2020-11-12 16:12
China is our most important overseas market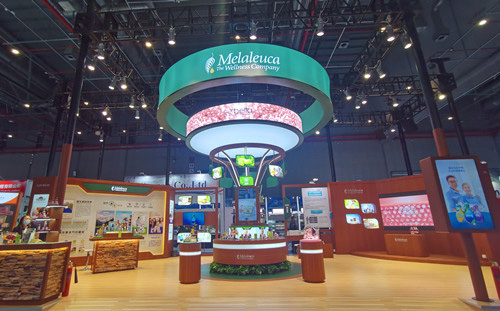 [Beijing Direct News Network November 12th] (People's network)"Thanks to the spillover effect of ICIF, our brands and products can be fully released on this platform, and promote the development of our business. With the help of this year's China Expo, we are confident that we can continue to make an appearance in China's consumer market On November 5, the third ICIF opened in Shanghai. Xu Wei, President of Melaleuca China, said excitedly when talking about the experience of participating in the fair.
Xu Wei believes that the successful implementation of the fair demonstrates China's firm confidence and determination in the prevention and control of the epidemic situation, and also provides strong support for global enterprises and injects strong impetus into the global economic recovery. At the same time, ICIF provides an important platform for the domestic and international dual circulation to promote the new development pattern. The post epidemic era will be a pluralistic, shared, sustainable and open era. This coincides with the theme of ICIF and is also the direction of continuous exploration and development of Melaleuca. Melaleuca will continue to be committed to providing Chinese consumers with more abundant and high-quality products, practicing the concept of sustainable development, and sharing the future with global excellent enterprises.
Melaleuca, who has participated in the Expo twice in a row, set up its own stand for the first time this year. They also launched two new products to the world at the fair: Low Sugar formula rose litchi flavor collagen peptide fruit drink and low sugar formula red Chenopodium fruit drink. Xu Wei introduced that the two new products are exclusively customized for consumers in the Chinese market. Collagen loss and glycosylation are the two main causes of skin aging. Additional collagen supplements help to improve skin elasticity and delay signs of aging. At the same time, resveratrol extract can effectively inhibit the production of glycosylation end products (ages) up to 80%, thus helping to protect the structure of collagen and promote collagen production.
Since entering the Chinese market for 17 years, Melaleuca has continuously promoted and deepened its investment and business in China. In 2019, Melaleuca will invest US $150 million to build its largest overseas regional headquarters and daily chemical production base in Fengxian District, Shanghai. This time, Melaleuca will continue to cultivate the Chinese market with the help of the important platform of ICIF, and give back to Chinese consumers with high-quality products and services.
Xu Wei stressed that "the Chinese market is the most important overseas market of Melaleuca in the world. Deeply plough into the Chinese market and let Melaleuca grow steadily and continuously. We have a broad consumer base in China, and we are also working hard to develop products that suit their needs and tastes. Melaleuca will take full advantage of this opportunity, develop research and innovation, and bring more beauty and health to Chinese consumers. "