2016-04-21 14:56
Kim, President of Li Guanhua: the future will focus on the development of direct marketing platform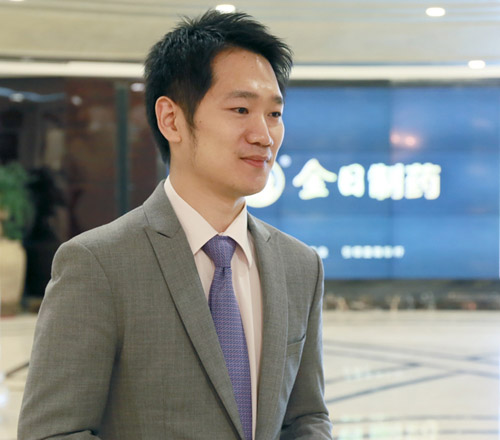 [straight news network Beijing April 21 News (gold) on the morning of April 20, 2016, Xiamen City health food cosmetics association, golden day group president Li Guanhua in gold on global membership service center accepted Xiamen's most influential financial programs -- Xiamen TV station "Hai Xicai report" column by interview.
Before the start of the interview, Xiamen TV reporter friends first visited is located in the beautiful scenery of the lake high tech Park gold on global membership service center, including a floor product exhibition hall and the third floor of the hall of honour, modern high-end exhibition hall let guests cooing, of gold, the new version of corporate Promo magnificent appreciated, they say, impression in the golden days, today has become impressive.
Li, President of the first brief introduction to the golden day group. He said: gold day is a collection of pharmaceutical, financial, food, trade and other diversified group company. With gold day Pharmaceutical (China), Xiamen Jinsheng pharmaceutical, gold on the group's Shang pin, wo wild food trade is more than a dozen subsidiaries.
In terms of gold products, President Li said: "talking about gold, we first thought is that American ginseng. Ginseng is one of the most popular series of products for the gold. In addition, there are health care products, skin care products, water appliances, air cleaners, food and so on. In particular, he referred to the golden days of the heart, gold day after a 1999 listing will sell well at home and abroad, because of its significant health effects, listed on the year received more than 3 letters of thanks. Golden day has a wealth of product lines, a steady stream of market and consumers to provide quality health products."
On the innovation of enterprise, as a new generation of gold group head, President Li also elaborated his own views. Golden day began in 1979, the past 40 years has been to the benefit of human health, the beginning of the heart, at the same time also with the times, and constantly innovate. He said that the direct sales channel is gold channel innovation performance. Gold on the product category including health care products, cosmetics and other are relatively strong effect of products, these categories of products extremely pay attention to word-of-mouth publicity, and direct selling mainly spread by word of mouth, imposed the golden days of the products with good reputation, so take the direct road is ripe. He also mentioned that now the direct selling industry hot, but gold, will always latent heart good products, good platform, good service, direct sales companies in respect of society, take the steady and sustainable development path.
Mention the golden days of the future, President Li is confident. He said: "gold, is the best business platform, will focus on the development of gold sales platform, will continue to carry forward the direct benefit of more people."
Character name card
The promotion of peaceful reunification of China
China the promotion of peaceful reunification of Hongkong Federation of vice president
Fujian province Xiamen city CPPCC
Vice chairman of Hongkong Philanthropy
Tong'an District of Xiamen city CPPCC Standing Committee of Fujian Province
President of the Xiamen city health food cosmetics association
Vice president of the Xiamen Association of foreign
Deputy director of the Hongkong Association of Xiamen long
Xiamen Overseas Friendship Association
The director of the Xiamen International Chamber of Commerce
Chinese Association of Xiamen
Hongkong golden day investment (Group) Limited company president
The interview broadcast time:
22:00 Xiamen in April 22nd as the two sets of "Haixi financial reports" column
The interview replay time:
12:00 in April 23rd as the two buildings set
(original title: Interview with Kim President Li Guanhua: the future will focus on the development of direct marketing platform)
Editor: Chen Feng
Interpretation of hot news, sensitive events, more exclusive analysis, as in "straight thing" WeChat, scan two-dimensional code free reading.