2020-09-24 14:59
Magic show: Wang Ziwen speaks for "jelly milk tea" to promote health care and anti-aging function, involving false publicity, six level agency or pyramid selling
[Beijing Direct News Network September 24th] (China net finance and Economics)Bairun brand magic show, which has been questioned repeatedly as "false publicity and suspected marketing", has recently announced "powerful actor Wang Ziwen has become a brand new spokesperson for magic show jelly milk tea" in social media. China net financial reporter found that with the help of Wang Ziwen's star fan group, only 45000 fans of magic show official microblog news, each can get thousands of forwarding, comments, and over ten thousand praise.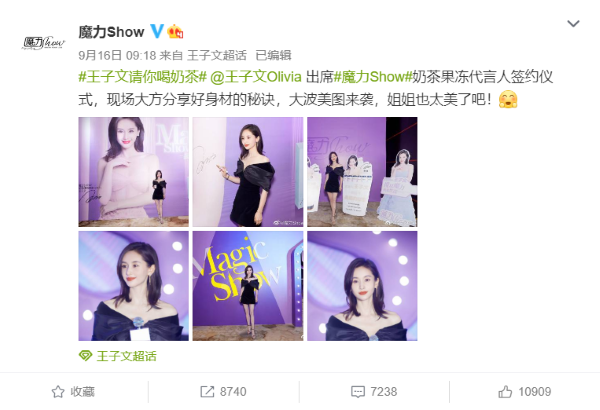 Before and after the new spokesperson of the official publicity, magic show announced the new product "magic show resveratrol milk tea" five flavors to be launched. The reporter noted that for the new product milk tea, magic show claimed that "each cup contains 59 nutrients, rich high-quality protein, multiple vitamins, minerals and dietary fiber, which can be fully supplemented with nutrition, but the heat is only 90 calories, and the full stomach time is longer than 5 hours".
In response, experts said that at present, many domestic micro businesses play "frieze ball" in terms of product efficacy: "strictly speaking, the above statements must be illegal. Ordinary food with a brand of food can not publicize the benefits to the body, such as low calorie and full stomach for 5 hours at the same time." According to Article 13 of the Interim Provisions on the issuance of food advertisements, food advertisements other than health food shall not publicize the health function, nor express or imply the health care function by means of the function of propaganda of certain ingredients.
On this issue, China net financial reporter called the official customer service telephone number on the official WeChat official account of the magic SHOW. Relevant staff said it would feedback relevant departments. As of press release, no reply has been received.
Magic show official micro star platform claimed that the product "whitening freckle, anti-aging" is suspected of false publicity
The WeChat official account of the magic SHOW brand headquarters shows that the magic show is the brand of the "new food for all people" under Bai Ran's bio. It has 3 star products: "giant water collagen collagen dew", "resveratrol Magic Milk Tea" and "magic jelly".
However, Bairun bio has repeatedly published videos on its official Blue V micro blog called "magic show" by Huang Yi, Zheng Yuanchang, Wang mainland and Jinchen, etc. for the promotion of Bairun biological products. In the above videos, many stars claim that "giant water light collagen alcohol dew" can resist oxidation, anti-aging, whiten and lighten spots, etc.
Zhu danpeng, an analyst of China's food industry, said in an interview with the financial reporter of china.com.cn that the content publicized in the video must be illegal, because it involves product efficacy: "this wechat brand may have evaded the legal provisions in the publicity, and there may be clauses such as" purely personal opinions of guests "in the contract signed with stars. In case of being investigated by the market supervision department, the wechat brand can respond. It is said by a certain star, not by the wechat brand. "
Another industry person who did not want to be named also said that it was illegal for ordinary products to claim "anti-oxidation, anti-aging, whitening and lightening spots" and was suspected of false publicity.
According to the reporter's investigation, the manufacturers of the above-mentioned three products are all Guangdong orange day green treasure biological medicine development Co., Ltd. (hereinafter referred to as "Guangdong orange day green treasure biological company"), when the reporter called Guangdong orange day green treasure biological company, the relevant staff said that "whether these three products were produced by the company" was not very clear.
Tiktok tiktok, a official account of micro-blog, WeChat and jute, has searched for the magic show, which has a lot of related vibrato numbers, official account numbers and micro-blog numbers. Among them, many public names and micro-blog numbers, which are called show agents, are widely publicized. Show products can "detoxify, dampen, beautifying, beautifying, cosmetic, improving constipation, anti-oxidation, anti-aging".
Are the effects of the above three products really as "omnipotent" as the merchants said? The reporter contacted four magic show agents for secret interviews on the basis of joining agents. Three agents claimed to be the "CEO" agents of magic show, and the other claimed to be the "official partner" agent of magic show.