2018-11-30 15:09
Special Report: Unlimited Extreme Social Return to Society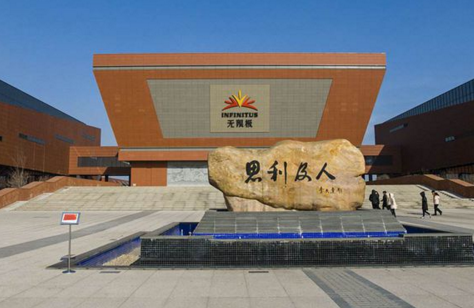 [Direct Report Network Beijing November 30th] (China business network)On November 20, the 2018 (16th) Annual Conference on Competitiveness of Chinese Enterprises was held in Beijing by China Operating Newspapers. At the meeting, Infinite Pole (China) Limited (hereinafter referred to as "Infinite Pole") won the award of "Best Sustainable Development Enterprise 2018" in the "Enterprise Happiness Index".
Supporting infinite pole award-winning not only has its sustainable development strategy, but also has been actively promoting the public welfare undertakings. It is understood that in June this year, Infinite Pole released the White Paper on Implementing the Sustainable Development Goals of the United Nations, which is a white paper in the field of health products. It responds positively to the United Nations Sustainable Development Goals (SDGs) from the aspects of "health" and "human".
"Infinite pole in many years of exploration and practice, has formed a corporate characteristics of the"five one"characteristics of social responsibility system, which provides guidance for enterprises to actively perform social responsibility. Zhang Qian, director of media affairs of Sili and People's Public Welfare Foundation and director of Infinite Pole (China) Limited, said that with the help of the dividends of reform and opening up, Infinite Pole has gradually developed and expanded, and now it is more important to make efforts to give back to the society.
Sili and Man, Continue to Increase Philanthropy Investment
Enterprise happiness index measures enterprises from the aspects of corporate culture, employee development, social responsibility and sustainable development. Among many enterprises, Infinite Pole has won the Best Sustainable Development Enterprise Award in 2018 for its outstanding achievements in social responsibility. In September this year, Infinite Pole has won the 10th China Charity Award.
"By 2018, we have contributed 1122 students in 24 provinces, totaling more than 18.045 million yuan. The Happy Football Charity Project has entered 100 Hope Primary Schools throughout the country, invested more than 12 million yuan and benefited tens of thousands of Left-behind children." Speaking about the public welfare achievements of Infinite Pole this year, Zhang Qian said that the company has launched more than 50 innovative CSR projects in 30 provinces in the country to help the national strategy of precise poverty alleviation and healthy China.
According to Zhang Qianqian, by the end of October this year, the donation amount of Infinite Pole in the field of charity and public welfare reached 22.31 million yuan. In the future, infinite poles will focus on the corporate mission of "healthy life", based on the specific needs of the broad masses of stakeholders, and further increase investment in public welfare and philanthropy. For example, in 2019, Infinite Pole will continue to carry out the Dream of Student Assistance Program in Liaoning, Beijing, Tianjin, Fujian, Hainan and Chongqing, with 600,000 yuan per province and a total of 3.6 million yuan. It is expected that the project will continue to invest not less than 18 million yuan between 2020 and 2025; for example, in 2019, it will invest not less than 4.5 million yuan to carry out innovative CSR in 30 provinces of the country, and this project will continue.
In June this year, Infinite Pole released the White Paper on Infinite Pole Practice of UN Sustainable Development Goals in the field of health products, which responded positively to the UN Sustainable Development Goals (SDGs) from four aspects of "health", "human", "earth" and "community".Integration of Public Welfare and Enterprise Strategy
With the promotion and implementation of reform and opening up, China's social economy has undergone tremendous changes, social economy has been greatly developed, and people's living standards have been rapidly improved. With the development of economy, consumers'awareness of health is constantly improving, which makes the health industry show a vigorous development trend.
Founded in 1992, Infinite Pole, with the help of market and economic dividends brought about by reform and opening up, has developed into a large enterprise focusing on research and development, production, sales and services of herbal health products, with more than 4700 employees. At present, it has successfully developed and produced 145 products of 5 series and 6 brands, and has set up 30 branches and 30 service centers in the mainland of China, with more than 7000 franchised stores.
At the same time, Infinite Pole has always insisted on fulfilling its corporate social responsibility. It has donated 21 Infinite Pole Primary Schools in the Mainland of China. It has also carried out public welfare activities such as "Infinite Pole Walking Day", "Health Culture Entering Ten Thousands of Families". It has donated 20 million RMB to set up "Sili and People's Public Welfare Foundation" and launched "Sili". Many projects, such as "and helping students realize their dreams".